GrainProTrade – Spelled wholesale at producer prices
Company GrainProTrade supplies spelled directly from the farmers in the Ukraine at favorable conditions. Our spelled has a glassiness of more than 60%, a protein content of 18% and a gluten content of 8%.
You can safely buy spelled from us without worrying about the quality, because all our products are consciously selected by our QM employees in Ukraine and thus meet the highest standards, which guarantees the expected quality of the goods. Besides the high standard, the products are sold at an affordable wholesale price. The conditions for the sale of spelled can be specified at any time in writing or by telephone with the manager. Our team provides our customers with the in Big Bag Packed ordered spelled by truck within 5 working days.
Current prices for spelled:
spelled to FCA-Price from €250/ton plus freight costs.
The main advantages of cooperation with our company:
the high level of professionalism of our entire team, which ensures problem-free delivery of quality spelled in the shortest possible time;
reasonable price level, since we work directly with spelled producers in Ukraine;
convenient delivery straight to you.
Contact our managers on the website or by phone. We offer high quality spelled at an optimal price!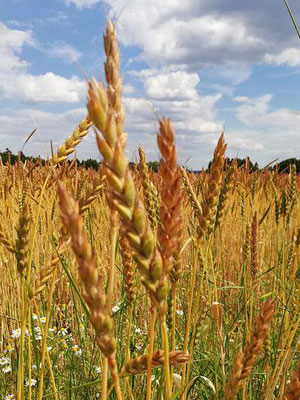 spelled field
Spelt
Spelt
spelled flakes
All about spelled
Spelled is a member of the grain family. It is the ancestor of modern wheat. Due to its exceptional taste qualities and useful properties, spelled has been called "black caviar of grain".
This grain is resistant to fungal diseases. It has a special ear structure that protects the grain from pests and moisture loss.

Spelled has been known for its benefits since ancient times. In the distant Neolithic period, it was the basis of our ancestors' diet. It was also grown in ancient Egypt and Babylon. In ancient Russia, since the 5th century B.C. sown a peninsula.
The grain of spelled has a very dense structure and is poorly ground into flour. Because of this, in Russia they stopped cultivating it, giving preference to varieties of wheat.

In our time spelled is becoming more and more popular. This crop has been re-cultivated in various countries.

Spelled contains a large number of vitamins, trace elements, macronutrients and amino acids: riboflavin, thiamine, pyridoxine, folic acid, vitamin E, vitamin PP, iron, zinc, magnesium, manganese, selenium, potassium, phosphorus, sodium, calcium.

In terms of nutritional properties, spelled has a number of advantages compared to wheat. First, the protein content (up to 18-20%) in spelled grain is higher than that of soft wheat (about 11%). In addition, the protein contained in spelled has soluble fractions in its composition, thanks to which it is better absorbed by humans. Second, it contains 18 essential amino acids, which is the highest amount of any grain.

The spelled grain contains 35% gluten, which is why it is weaker and "floating". Therefore, the bread made from it is not as bulky as ordinary soft wheat, but has the best taste qualities. Due to these technological features, it is better to bake bread from spelled in sourdough. When bread is prepared according to traditional recipes, flour from it is added to the dough as an admixture (up to 50%), or even whole spelled is added. The bread made from wheat flour to which spelt is added is not old.

It is very important that the spelled grain is almost gluten-free. According to allergists, there is a very small chance that a person will be allergic to all grains and the gluten they contain, even if they are allergic to spelt.
Spelled is the progenitor of modern durum wheat species, which have a brittle ear, film grain, and brick-red color. The wild grain is one of the first types of cultivated grain known in ancient times. This group includes such plants: wild dvuzernyanka, double-legged singularyanka, urartu wheat, spelta, maha wheat.

Spelta and plums are currently cultivated. The grain grows in a bush that creeps along the ground. The stem is hollow, with lowered nodes, the leaves are different in length. The ear is medium-sized, from 5 to 10 cm long, flat, loose and easily breaks up into several individual ears. The grains are narrow and long.

It was first found in Iraq, Iran, the Jordan Valley and Israel. At present, there is hardly any cultivation with food.

Creeping stalks are difficult to remove, and it is impossible to separate the grain from the chaff. The flour is inferior, so people started growing holonuclear crops. Modern names of the plant: spelled, spelta, boray, chabey vase.
Soil preparation is practically no different from the cultivation technologies of winter wheat or other cereals. It is desirable to plow to a depth of 20 centimeters with plows or cheesemakers a week or two before sowing. The pre-sowing treatment should be carried out particularly high quality, since the ears are sown and not pure grain. It is advisable to carry out sowing with pneumatic seeders - they provide better uniformity. The optimal sowing depth is 3-6 centimeters on light soils the sowing rate should be higher, since non-ground seeds need more moisture to germinate. 250 to 350 kilograms of seed are sown per hectare. For film wheat, the optimal time for sowing is from the end of September to the beginning of October and even later. However, sowing too late can result in lower yields. A large width of row spacing (15-20 centimeters in spelled sowing has a positive effect on the quality indicators of grain. Foil wheat has a high deciduous coefficient. However, it is possible to increase the row spacing only on clean fields, otherwise there is a risk of a excessive blockage of plants.

Harvest time depends on the appointment of the grain. In Europe, in some cases, collecting is practiced in the phase of wax maturity. This grain contains a large amount of protein, so it is used in various dietary supplements. As you know, film wheat has a brittle ear, so when fully ripe one should not tighten with mowing. The peculiarity of this harvest is that the motovila should slow down, otherwise a large number of spikelets will break and fall to the ground. The grate of the combine harvester must be open in such a way that parts of the ears go freely through the gaps. It is also necessary to reduce the intensity of air supply, otherwise grain losses will grow along with sex.

The production of spelt and spelt is promising, but farmers need to take care of the processing and storage of this grain before planning the harvest, since these issues are the most hampering the process of expanding the acreage of filmed wheat.
Spelled flour is a whole grain meal made from the grain of the same name, a wild subspecies of ancient wheat. The grains are heterogeneous - from 150 to 350 µm. The texture is delicate and soft; the color is light, creamy, caramel injections are possible; the aroma is fresh and sweet; the taste is with a slight acidity and a taste of semolina. Despite the fact that the product is whole grain, there is no bitterness. Absorbs less liquid than wheat flour.

Spelled flour is one of the most expensive. This is because no fertilizers are used in its cultivation, which means the product is eco-friendly. However, such production is not due to concern for the health of the consumer. The structure of the stem is such that the "superfluous" artificial compounds, which include chemicals, are not skipped onto the ear.

Growing spelled for flour is expensive. The spikelets are very brittle, although not attached to the ground. The crop is harvested using a combine harvester or a harvester with a lowered cutter. Then the clumsy spikelets are transported to an elevator, where they are poured into the silo of a grain cleaning machine. During the process, the shell is removed and aerated — the intermediate product becomes saturated with air. The seeds are then sent to centrifugal devices where they are cleaned with a directed jet of steam.
videos on the subject